Every SEO & Digital Marketing people know that "Title Tag is the Unchanged Ranking Factor". A title tag is an HTML element which specifies the title of a webpage. Title tags will get displayed in the Search Engine Results Page as a clickable text with a link, which will point to the exact web page.
About Title Tag
Title tag says the search engine and users about the content of a web page in a precise way. It is very simple to add the title tags to a WordPress Website or a Blog by using the SEO Plugins. When it comes to CMS based websites, then plugins support with everything.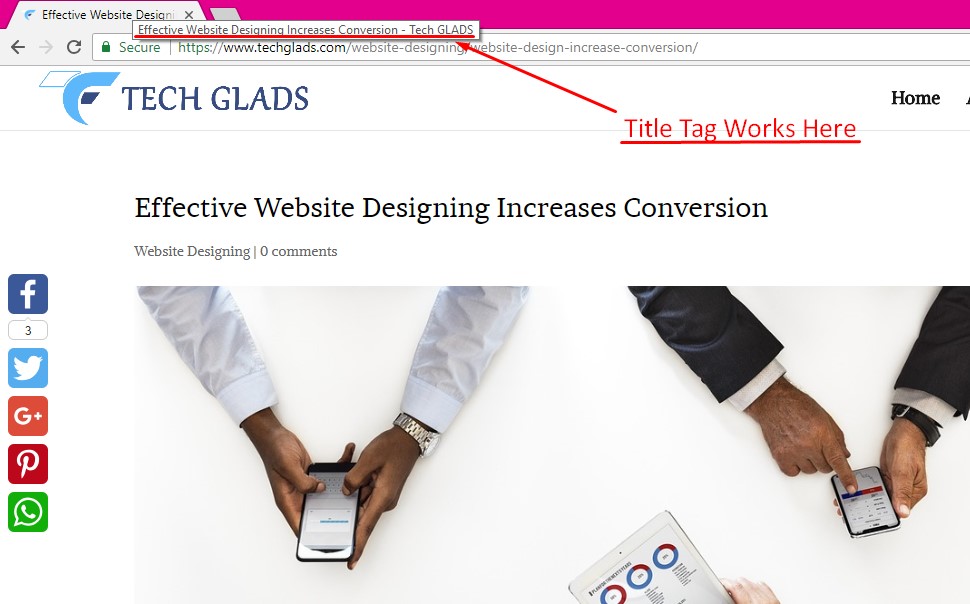 Types of Title Tag
Title Tag is the one which describes the Content in a web page with character limit as 60. It is classified into two types as SEO Title and Meta Title.
SEO Title – The title that appears in the Search Engine Results is called the SEO Title and mostly it is mentioned using the powerful WordPress plugins like Yoast SEO and All in One SEO.
Meta Title – The title that appears in the top of the Web Page is called the Meta title. Most of the times the SEO Title and Meta Title will be the same. It is the default title tag on every webpage or a website.

SEO Friendly Title Tag
The Title tag is the unchanged ranking factor, so it very much important to make sure it is SEO Friendly as well. The title tag is said to be SEO Friendly if it satisfies the below conditions
Presence of a keyword in it.
Related to the content.
The length between 50-60 characters.
Synonyms of the Keyword is Added.
Understandable.
These are the simple things which help to write the SEO friendly title to rank and also user-friendly to generate more traffic to your website.
Further to this, gain some knowledge on Google's regular keynote updates on recent technologies.
We are wondering about every tech related updates daily and sharing it to the fullest for people around us! Interact with us through our official Facebook page or mention @tech_glads in twitter for our swift reply to your query.
RELATED GUIDES: