You just can't build a chair because you've sat in many. Similarly, just knowing about different ways and means to drive traffic to your website, doesn't drive you with one. Precise knowledge with the right application and over the time experience can make you achieve your goal.
Through this post, we'll share the knowledge of 5 sure shot ways to drive website traffic via Instagram.
#1. Adopt Link to drive traffic
Well, you must seize this opportunity with the help of your bio. As it is this area where you can place and make your website link accessible. Once you have written the description, you can place your link underneath. There remain high chances that anyone landing in your bio page will surely give a click to the link you have provided.
#2. Maintain the Standard of your Bio
Now this includes, first – have a precise and relevant Instagram name, which remains consistent throughout all the social networks.  Second – same applies to your Profile Image as well. Your image will be your identity so keep it professional or sound enough. Third – attract the visitors with good punch lines in your description. Be simple and to the point at the same time effective enough. Unlike other social media platforms, Instagram is unique in this sense. Remember you must earn Instagram followers!
#3. Leverage Instagram Posts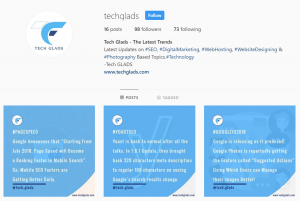 Visual appeal is the best to appeal. Want to really hook your customers? Then speak through your pictures more rather than beating your text trumpet. Go in for some great professional shoots for your product or services. After all, they'll be driving traffic for you. More than 70% of customers are drawn towards detailed images initially, rather than first focusing on description and reviews. Flaunt your products in the posts, resembling a unique and classy style that is hard to ignore. Strict NO to blurred, stroppy cropped and low-quality photos. You can reshare the post in your story, so people who are using Instagram in their leisure will go through it on the process of tapping to each story.
#4. Append URL in Videos
Though images are less time consuming for your audience, the irony is that Instagram videos generate inbound links that are thrice more than your image posts. Reason being that it's more lively and visually descriptive. Videos basically spice up and sum up your entire marketing approach.  And since this is true to the fullest, you must append your website URL smartly in the text overlay for driving your followers further.
#5. Utilize the Instagram Ads
Instagram ads act as a great source of driving traffic to your site. By the means of clickable links, you can target a large number of audience and make your followers aware of your digital campaigns. These are a great source of revenue generating from Instagram. Instagram ads can be categorized as Image, video, and carousel. With an Image ad, you can share a single photo that describes your story. Next, are the Video ads that are in contrast to organic Instagram videos. They provide more flexibility in terms of time and format. Lastly, the carousel ads can incorporate max 4 photos, giving a high rise to your storytelling.
All you need to do is follow up and implement the above! Since Instagram has proven out to be intense traffic and revenue generating a social medium that has even outperform Twitter. So what are you waiting for start driving your traffic!
Head of Design and Marketing
at
SeekaHost Ltd.
Aspire to learn! So far specialized in Digital Marketing, Conceptual Designing and Technical Support in a Web Hosting Company.
Latest posts by Aslam Saah (see all)