Google launched its free URL Shortener tool at goo.gl back in 2009. It is a very important tool that every people were in need of. Everyone used the goo.gl Shortner tool to reduce the length of their URL and to track the clicks made on it. Once the URL is shortened then it will have the prefix as goo.gl followed by some random characters for unique and easy tracking.
How it functions?
To access Google URL Shortener tool, you must have a Google Account. After logging into Google Account, you can see the options to place your lengthy URL and it will be shorten in a single click. Also it will get stored in your account with the following informations like Original URL, Created Date, Shorten URL and Number Of Clicks Made on the provided URL. Also there is an option to download all the information stored in your URL Shortner tool in a Single Click as a CSV file.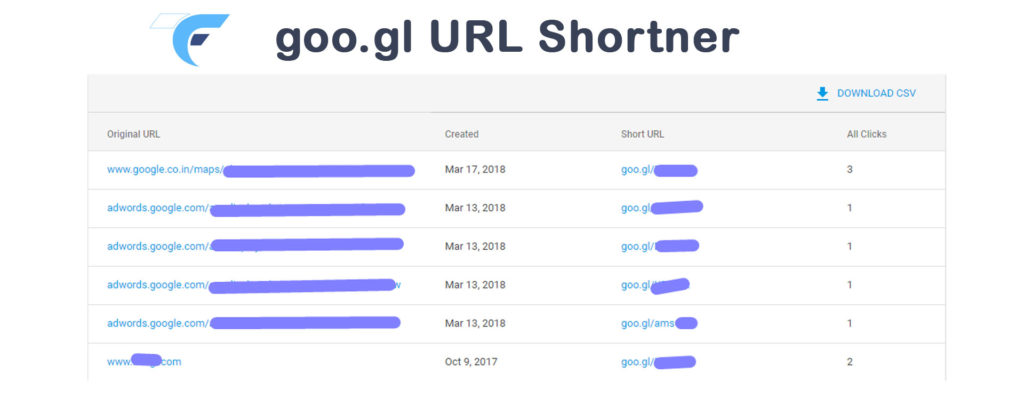 Google URL Shortner is Shutting Down
If you are a newbie, then you lost your opportunity to utilize the goo.gl URL Shortner Tool. Because Google has annouced that no new person will have the access to use this URL Shortner tool after Apil 13, 2018. It doesn't mean that, everyone with the existing Google Account can access the tool. It is available only for the people who shorten their URL atleast once in their lifetime.
Google has stopped its support for URL Shortner Tool on March 30, 2018. Also they have announced it clearly that, the existing shorten URL will not get affected at any case

March 30, 2019 – the day after which you cannot view the analytics data and also you cannot download the CSV file. Because the Google URL Shortner will get shut down on that date. So the usage of goo.gl URL Shortner is available only till March 30, 2019.
If you still didn't use this tool, then try to use it atleast once before April 13, 2018 to use it still March 30, 2019. Also there are many other alternatives for goo.gl tool and some of them are Bitly & Ow.ly.
Why Google is Shutting Down the URL Shortner?
Google has stopped its support for their URL Shortner tool and looking to replace it with Firebase Dynamic Links (FDL). FDL is a Smart URL which allows to send existing and potential user to any location within ios, Android or Web App. After March 30, 2019 your shorten URLs will work and also, all your data from goo.gl console will not be migrated to Firebase Console.
Related Posts: